E-Book Distribution (Includes Formatting and Conversion)


In addition to all the formatting and conversion features, we can also help you distribute your e-book so that it sells through Amazon for Kindle, Apple iBooks for iPad, and BarnesandNoble.com for Nook.
One of our e-book specialists will format your manuscript to be compatible with Kindle, Nook, and iPad. Then we will guide you through the process of setting up accounts with Amazon, BarnesandNoble.com, and Apple's iBooks. Our aim is to make the whole process easy for you, so you can focus on other things like writing and marketing. After your accounts are set up in your name, we will then upload your e-book file, a jpeg of the cover, and enter all sales' copy and metadata for you.
IMPORTANT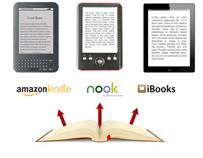 Manuscripts must already be edited and proofread, because our e-book specialists will not proofread the book. Some e-book sellers have restrictions on books that have multiple grammatical or spelling errors, so it is essential that your book is professionally edited prior to being converted to an e-book. If your book needs to be edited or proofread, our editors at Expert Subjects are available.
You will need to upload a jpeg file of the front cover (must be at least 800 pixels tall). If you need a book cover, our designers can provide one for you.
You'll need to provide us with your copyright date.
Sales' copy is required (book's description, blurbs, review quotes, etc.)
ISBN is required for the Apple iBooks Store. If you do not have an ISBN you may submit it to us at a later date, or you may purchase one at www.ISBN.org
Turn-around time for e-book formatting and distribution takes anywhere between five to ten business days, depending on the volume of orders. Accounts with Amazon, and BarnesandNoble.com will be set up in the author's name. The author is considered the publisher of the e-book and maintains 100% rights. We simply provide a service that helps you get your book in the right format and listed with the major e-book sellers.
Once our e-book specialist has distributed the book, Kindle and Nook versions will show up on Amazon's and B&N's online bookstores within 24-48 hours. Apple iBooks may take anywhere from a week to longer, because they have an approval process. All royalties earned from sales at Amazon, Apple iBooks, and BarnesandNoble.com will be paid directly to the author.
Royalty Distribution:
Amazon Kindle
Author/Publisher will be paid a royalty of the List Price according to the following terms:
For eBooks with a List Price between $2.99 and $9.99
70% of the List Price
For eBooks with a List Price between $.99 - $2.98 or at or greater than $10.00
35% of the List Price

Barnes and Noble
Author/Publisher will be paid a royalty of the List Price according to the following terms:
For eBooks with a List Price between $2.99 and $9.99
65% of the List Price
For eBooks with a List Price between $.99 - $2.98 or at or greater than $10.00
40% of the List Price

Apple iBooks
Author/Publisher will be paid a royalty of the List Price according to the following terms:
70% of the List Price