E-Book Conversion and Distribution



E-readers are on the rise, and customers are purchasing books for Amazon's Kindle, Barnes & Noble's Nook, and Apple's iPad. We can convert and reformat your manuscript for each of these e-readers, as well as help you with the distribution of your book. Major online stores have their own clientele, and the marketplace is fiercely competitive, so increase your exposure with our professional distribution program. With our distribution program you keep 100% of your royalties and all the accounts are yours. Therefore, you are your own publisher with full rights to your own work. We simply provide an indispensable service at moderate charge.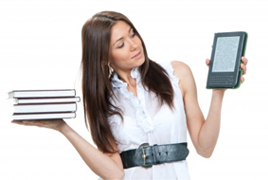 Distribution not included
Starts at $180




Includes Formating and Conversion
For a low price of $255

When you purchase this service we will format and convert your manuscript, or previously published book, to e-book files for Amazon's Kindle, Barnes and Noble's Nook, and Apple's iPad. We will deliver your e-books as Mobi files (for Amazon) and epub files (for B&N and Apple). This program does not include distribution; therefore, we simply convert and format your manuscript, according to each e-reader, so you can carry out your own distribution.

When you submit your manuscript to us for conversion and formatting, please make sure you include the copyright year on your manuscript.

In addition to all the formatting and conversion features, we can also help you distribute your e-book so that it sells through Amazon for Kindle, Apple iBooks for iPad, and BarnesandNoble.com for Nook.

One of our e-book specialists will format your manuscript to be compatible with Kindle, Nook, an iPad. Then we will guide you through the process of setting up accounts with Amazon, BarnesandNoble.com, and Apple's iBooks. Our aim is to make the whole process easy for you, so you can focus on other things like writing and marketing. After your accounts are set up in your name, we will then upload your e-book file, a jpeg of the cover, and enter all sales copy and metadata for you.

Read more

Formatting and Distribution Testimonials

Author:

Hannah Cartwright
Book Title:

Healing-Sibling-Sexual-Trauma: A Very Personal Story
"My book has been printed and is up on Amazon now thanks in a major part to Expert Prints. Everyone was most helpful including Cath, Marija, and William in particular. I was very impressed with how honest and up front they were about the prices and what they actually did. I looked into other services like CreateSpace and they were much more interested in nickel and diming you and giving you the hard sell. I always heard back from them within a day and they were excellent in helping me with each issue I had. I highly recommend them. "
www.healing-sibling-sexual-trauma.com

Author:

Lisa Smiley
Book Title:

The Spirit of a Vampire
"Expert Subjects are great! I've used their eBook cover services twice and both times left me a completely satisfied customer. From beginning to end, William and Marija made sure I was completely happy with the finished product! If you haven't tried them, I highly recommend that you do! "

Author:

Magie Stuart
Book Title:

Principles for Principals: Programs that Help Kids
"When I had received the run-around from another company, I was alerted to William and by him to Catherine. They took me through the eBook process--hand held! When one of my tables would not work, they kicked into gear and worked with their programmers to get the book done! All through the process, they kept me informed. That alone, besides the final product, was worth it's weight in gold!"
drmagiestuart.com

Author:

Roger Millhouse
Book Title:

Prepared in The Wilderness
"The work is phenomenal. They helped ensure this book will be successful. It is now distributed on kindle and already is selling. I will utilize these people again for my next two books. Todah rabbah(thank you very much). They also did tremendous work on my cover design as well. these people are fantastic!"

Author:

R.J. Jerome
Book Title:

Valstain
"I needed a quick and precise format to appease my publisher who had just offered me a 3 year book deal. Once again, I contacted Will from Expert subjects, told him my situation, and the team at Expert Subjects did a fantastic job, and in a timely manner. I was so pleased with their work, that I added Expert Subjects name to my acknowledgement page. Thank you Will!"
http://rjjerome.com/

Author:

T.L. Williams
Book Title:

Cooper's Revenge
"Not being the technical type, I really appreciated the expertise demonstrated by Expert Subjects in converting my PDF manuscript into electronic files suitable for use at sites requiring epub, mobi and Apple specific formats. The process was painless, as Brian, who was doing the file conversions, worked through the task. He was meticulous, even catching a couple of editorial glitches ias he converted the files, thus greatly enhancing the professional look of the final product. When I opened up Cooper's Revenge for the first time online I felt both proud and gratified by what we had accomplished. Expert Subjects truly has a team of experts standing behind the services they offer. One other point. Brian, and everyone at Expert Subjects does a great of keeping you, the cli"
terrenceleewilliamsauthor.com

Author:

Savannah Grace
Book Title:

Sihpromatum - I Grew my Boobs in China
"These guys are GREAT. You can trust them. They are experts on this subject! I agree with all the other amazing testimonials on this site! No regrets! You will walk away skipping and laughing, I did! These guys make dreams come true."
http://www.sihpromatum.com